The leading choice for happy cats!

CAT LEADER® is a complete range of natural classic,  ultra compact clumping, silica gel and vegetal cat litters of excellent quality. Characterized by superb liquid and odour absorption, CAT LEADER®'s range of cat litters is designed to offer top hygiene and utmost comfort to your cat.
Discover our NEWEST additions, TOFU CLUMPING and 2XODOUR ATTACK FRESH!
CAT LEADER® TOFU is our new vegetal cat litter from soya. It is natural, clumping and 100% biodegradable. Enriched with exciting peach aroma for extra freshness.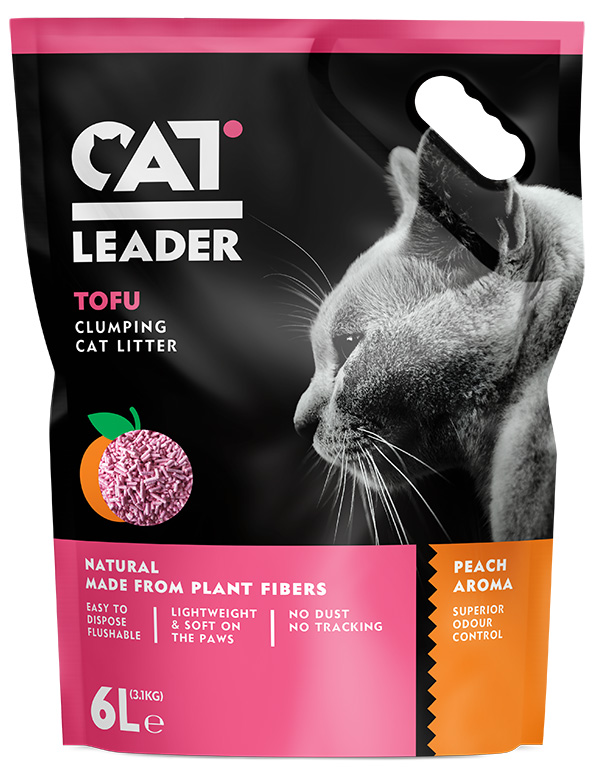 CAT LEADER® 2XODOUR ATTACK has an innovative double action formula that effectively fights cat litter odours leaving only a fresh and clean aroma. Available in both clumping and classic variety.
CAT LEADER® Classic, with its exceptionally high absorption rate and special odour neutralizing properties, lasts longer than regular conventional cat litters.
CAT LEADER® Clumping ultra compact is super absorbent and quickly forms strong clumps that are easily removed, leaving the rest of the cat litter fresh and clean for much longer.
CAT LEADER® Crystals is a premium silica gel cat litter. It is lightweight, non-tracking and offers easy maintenance. The millions of tiny pores ins each granule's surface instantly absorb all liquid, keeping the litter dry for a longer period of time (1 bag=1cat=1month).
CAT LEADER® cat litters are also available with exciting aromas that enhance their performance in providing optimum hygiene for your cats.